Staffordshire Organic Cheese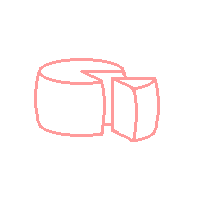 Since the mid 1980's the village of Acton in Staffordshire has been home to a small dairy, producing cows milk cheese. This tiny enterprise has grown from the humblest beginnings to a thriving business, sending high quality cheeses all over Britain and further afield.
The Deaville family has worked at Newhouse Farm since 1956, keeping a variety of livestock, and growing many crops over the years. In 1966 Michael Deaville took up the reins, and has maintained the land in a pesticide and fertiliser free condition since the early 1970's, before the recent "organic revolution". Betty Deaville started making a little cottage cheese and yoghurt in the farmhouse from some of the milk taken from the couple of dairy cows on the farm. Her interest grew, and with a book from the library in one hand and a wooden spoon in the other, started to make some hard-pressed cheese in the farm kitchen.
With a little encouragement from friends and family, a spare shed was converted into a dairy, the herd was increased to a handful of cows, and the first commercial scale trials of cheese making began in the early 1980's. After some experimentation and waiting, a soft, creamy cheese emerged, subtly different to anything you could find in the shops. A tiny shop was established, appropriately in the old farm's original dairy building, and Staffordshire Organic Cheese was born.
Now sited in a larger, purpose-renovated building overlooking some of North Staffordshire's finest scenery, the Farm Shop stocks a wide selection of dairy products, eggs, vegetables, meat, groceries, wines and beers, all of which are organic or additive free. The shop is open on Fridays and Saturday mornings only, or by special arrangement.
More from Staffordshire Organic Cheese
---